Podcast: Play in new window | Download
Subscribe: Apple Podcasts | Google Podcasts | Spotify | Android | Pandora | RSS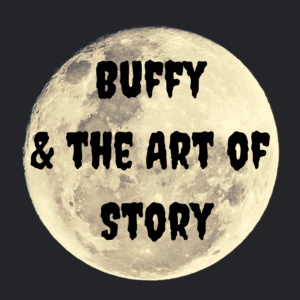 In All The Way (S6 E6 of Buffy the Vampire Slayer), Dawn ducks out of Xander's and Anya's engagement party on Halloween and puts herself in peril. Along with the recap, this podcast episode focuses on:
(1) who the protagonist is – Dawn, Buffy, someone else? (2) which is the main plot: Tara/Willow, Xander/Anya, Dawn's adventure, Buffy's struggles? (3) are all these story lines subplots, partial season arcs, or both? (4) when misdirection and subverting expectations works best; and (5) how not knowing what characters think undermines the emotional power of a story.
Last Episode: Life Serial S6 E5
Next Up: Once More With Feeling S6 E7
As an Amazon Associate I earn from qualifying purchases made through this site, but that doesn't change the purchase price to you or influence my love of Buffy the Vampire Slayer.
About Lisa M. Lilly
In addition to hosting the Buffy and the Art of Story podcast, Lisa M. Lilly is the author of the bestselling four-book Awakening supernatural thriller series as well as numerous short stories. She is currently writing the latest novel in her Q.C. Davis mysteries. Her non-fiction includes books on writing craft under L. M. Lilly. She also founded WritingAsASecondCareer.com.