One reason I love writing the Q.C. Davis mysteries is they highlight what I love about Chicago, where I live. The news is full of bad news about the city (but that's what news is, right?).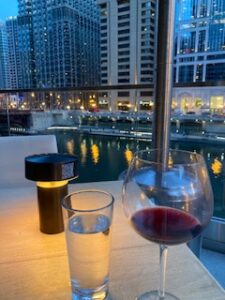 But Chicago also is home to fantastic restaurants, striking indoor and outdoor art, and beautiful buildings.
Sometimes when I'm walking at twilight I stop and stare at the skyline and think how lucky I feel to live here.
What you may not know is that this abundance of stunning (and sometimes odd, I admit) buildings occurred because of tragedy. The Great Chicago Fire of 1871 killed 300 people and destroyed over 17,000 buildings. Nearly a third of the city was in ruins.
But talented architects flocked to the city to rebuild. Many of them—including Louis Sullivan, Daniel H. Burnham, and Dankmar Adler—stayed and designed newer and taller downtown buildings.
That theme of rebirth after devastation is one I relate to personally for a lot of reasons, as does my detective Quille C. Davis. That's another big part of why I couldn't resist Chicago as a setting for the first five mystery novels. (The sixth will mix in Edwardsville, Illinois, and St. Louis, Missouri, too.)
I hope that post-Covid (whenever we truly get there) will see the city become the best it's ever been. Until then I'll keep revisiting my favorite spots through my fiction.