Recently I visited the Edwardsville public library in Southern Illinois as part of my book research.
I discovered the value of researching in person, American Girl dolls, and an outdoor bandshell.
While my Q.C. Davis mystery series mostly takes place in Chicago, the detective/lawyer main character was born in Edwardsville. In the next book in the series (working title The Forgotten Man) she'll strive to solve two 1980s murders. For that, she needs 1980s yearbooks, newspaper articles, and phone books.
I could have learned a lot online about what the library does and doesn't offer. And there are plenty of photos as well.
But I'm so glad I went there in person. I discovered things I wouldn't have known. They won't change the plot of the novel. But they will add to the story.
The Library Stacks
I loved the public library as a kid. It was an exciting world a two-block walk away. So of course my detective, Quille, and her friend Lauren will visit the Edwardsville public library.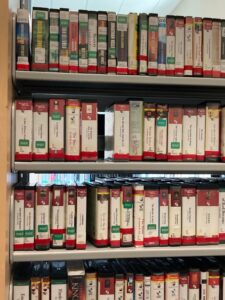 Now that I've been there in person, I know what they'll see inside. And where they'll research. Probably at the long table in front of the stacks in the photo above.
And I may use a little poetic license and move these armchairs to a spot where they can talk over their findings.
Quietly, of course. 
Also, though they aren't looking for audiobooks, especially not in physical form, I enjoyed seeing these shelves full of them.
Outside The Edwardsville Public Library
I'm also glad I walked around the outside of the library. 
As the photos below show, there's tall sculpture at the front. And to one side is a bandshell. I feel certain some outdoor event will occur there.
Which is great because one challenge when writing a follow-the-clues mystery is varying the places where the main character questions witnesses and suspects. (More on that in a later post about Edwardsville taverns.)
Surprise Dolls At The Library
Now to something I never would have learned through online research, as I had no reason to search for anything in the children's library.
You can borrow American Girl dolls from the Edwardsville Public Library. Now that I know that, at the very least Quille, my detective, will need to see them. And since the plot involves the murders of two little girls (including the sister Quille was named after), I'm sure there'll be a way to do that.
Stay tuned for more from my trip and about the book.
Best,
Lisa M. Lilly
P.S. Looking for the rest of the Q.C. Davis mysteries? Click here for a list of them in order. Also available in Large Print.