My recent travels to Prague and Krakow sparked all sorts of ideas for novels, including for a new supernatural thriller series.
A Non-Supernatural Mystery In Prague
First, though, private investigator Quille C. Davis will travel to Prague to question a psychic medium, who is also a murder suspect, in my Q.C. Davis mysteries.
While the Q.C. Davis mystery series is not supernatural, Prague's long history of mysticism and alchemy make it an ideal home for the psychic medium character. And the city's overall beauty makes me willing to have Quille spend time away from Chicago, which she (like me) loves and where she lives, practices law, and solves crimes.
Supernatural Books And Mystic Prague Nights
More on the new series, which will be a follow up to my Awakening Supernatural Thriller series, down the road. But to give you a hint, some highlights, photos, and ideas.
Simply being in Prague felt mystic, especially at night. Above is a statue on the famous Charles Bridge. 
And the monastery sparked many ideas for twists and turns in a new novel, as it included two halls of books. Look at the sign on one of them — perfect for a religious conspiracy thriller.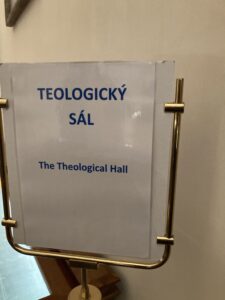 The Missing Bones
I also toured the convent of St. Agnes of Bohemia in Prague. (Hall and scale model of convent below.) What intrigued me most?
My guide told me that the crypt that bears the name of Agnes of Bohemia is not her final resting place. 

Turns out her supporters hid her bones from enemies after her death. They did such a great job that no one has ever found them.
I'm sure I can do something with that legend, or borrow from it.
Cathedrals And Castles
In Krakow, the Wawel Castle and the cathedral in it captured my imagination. In particular, the skull on one wall and what looks like a goat's head with a sword thrust into it on the ceiling.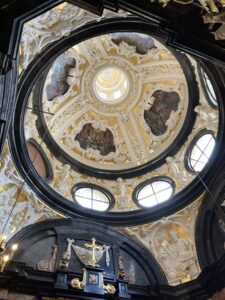 Why are both there? I'll need research. Which will be fun and no doubt will lead to more ideas for plot twists.
Here's the castle:
If you want to be first to know when the new supernatural thriller series begins or the new Q.C. Davis mystery is underway, click here to join my Readers Group email list and get a free Reader's Guide to the original Awakening series.