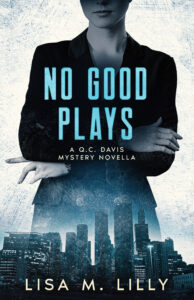 No Good Plays (A Q.C. Davis Mystery Novella)
His son's basketball coach is dead. She agrees to investigate. But is it worth her life?
After solving a crime but losing a friend, Chicago lawyer Quille C. Davis' plans for the summer are to have fun, catch up on her law practice, and enjoy time on her boyfriend's boat.
Then Detective Sergeant Beckwell, who helped Quille investigate the death of someone close to her, calls in a big favor. His son's high school basketball coach is dead, and he's afraid his son is somehow involved.
Beckwell has it all planned.
His ex-wife is on the board of the Catholic high school his son attends. Quille, drawing on her child stage actress experience, can volunteer in the summer drama program. From there, he expects Quille to wheedle her way into the school's life, figure out what happened to the coach, and, more important, what his son knows about it.
Quille fears Beckwell will expect her to cover up what she finds. But she feels for Beckwell, whose son has gone from confident, happy high school basketball star to a sullen, angry teenager who may want to quit playing altogether.
She agrees to investigate, and Beckwell promises not to interfere no matter what she learns.
But is it a promise he can keep? And can Quille find the killer before she becomes the next victim?
No Good Plays is a novella in the Q.C. Davis Mystery series, but it stands alone. If you enjoy quick-witted amateur sleuths, unraveling the clues, and life-and-death stakes, you'll love this novella.
Buy No Good Plays today to discover the truth.
Paperback | Kindle | Kobo | Google Play | Apple Books | Nook
Or read a digital edition of No Good Plays free by joining the author's email list.