I had another post I planned to write today (about why I didn't use "Girl" when deciding on a title for my new mystery). But I'm deferring that, or calling an audible as one of my football-fan friends would say, to share some news.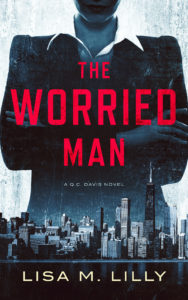 Audible is a good word because the news I'm sharing has to do with an audiobook.
Specifically, Blunder Woman Productions accepted The Worried Man, the first in my new Q.C. Davis mystery series, to publish under its umbrella as a audiobook.
Finding Blunder Woman
About a month ago, I saw a tweet that Blunder Woman Productions was looking for mysteries and thrillers to produce as audiobooks. I added a note about it to my To Do list for the launch of The Worried Man.
I admit submitting a query wasn't top of the list. It wasn't even in the middle.
Before I went to law school, I submitted novels, short stories, and poems over and over to publishers. I was used to getting 100 rejections before anyone expressed interest. So I was putting my energy toward things I knew for sure would help sales of The Worried Man, such as polishing the book's description and getting the files uploaded on various ebook platforms.
20 Minutes To Spare
One day I had about 20 minutes before a meeting, so I researched Blunder Woman.
I was impressed by the company's record of audiobook awards and the quality, quantity, and variety of audiobooks produced. So I filled in the query form on the website. I barely made it to my meeting on time, and I didn't think much more about it.
Later the same day Tanya Eby from Blunder Woman responded and asked for a copy of the book. A week later she said she'd read it and thought it would make a great audiobook.
I was really excited, as I checked her out and discovered she narrated books for one of my favorite mystery/suspense writers, Tess Gerritsen, whose Rizzoli & Isles series I especially love.
What could be better than someone who narrated Tess Gerritsen audiobooks thinking The Worried Man would be a good choice for her production company?
It's up to Blunder Woman who will narrate and when the audiobook will release. I'm hoping it'll be sometime this summer. (The paperback is available now, and the ebook editions release on May 1, 2018).
I can't wait to hear my main character Quille's voice for the first time!
Read Chapter 1 of The Worried Man.