Podcast: Play in new window | Download
Subscribe: Apple Podcasts | Google Podcasts | Spotify | Android | Pandora | Stitcher | RSS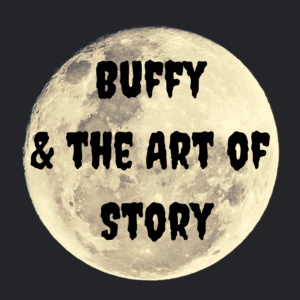 In Listening To Fear (Buffy the Vampire Slayer S5 E9), Joyce prepares for brain surgery as a dangerous alien stalks her. The podcast episode recaps Listening To Fear, focusing on:
opening conflict grounded in Buffy's new normal – taking care of Joyce in the hospital;
Riley's disappearing act shows the audience his inner turmoil – and puts the gang in grave danger;
the challenges of a protagonist (Buffy) and antagonist (the demon from outer space) not knowing about each other until the episode climax; and
seemingly throwaway dialogue sows seeds so the audience buys later character choices and events.
Spoiler-free, except at the end (with plenty of warning).
Last Episode: Shadow S5 E8
Next Up: Into The Woods S5 E10
Work On Your Story
As an Amazon Associate I earn from qualifying purchases made through this site, but that doesn't change the purchase price to you or influence my love of Buffy the Vampire Slayer.
More Links
About Lisa M. Lilly
In addition to hosting the podcast Buffy and the Art of Story, Lisa M. Lilly is the author of the bestselling four-book Awakening supernatural thriller series as well as numerous short stories. She is currently writing the latest novel in her Q.C. Davis mysteries. Her non-fiction includes books on writing craft under L. M. Lilly. She also founded WritingAsASecondCareer.com.