Podcast: Play in new window | Download
Subscribe: Apple Podcasts | Google Podcasts | Spotify | Android | Pandora | Stitcher | RSS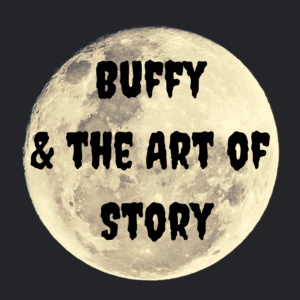 In Glory As The Big Bad (a bonus Buffy and the Art of Story podcast episode), host Lisa M. Lilly talks with Rachel Wharton of Kobo Writing Life about Buffy the Vampire Slayer Season 5 and more. The conversation focuses on:
(1) Glory as a powerful, stereotypically feminine Big Bad who reflects series' themes; (2) how the "Death Is Your Gift" message affects Buffy's view of herself and her mission in Season 5; (3) whether Season 4 ranks as the least best season despite many excellent episodes; (4) comparing the dialogue, goals, and powers of the Big Bads in Buffy; and more.
Last Episode: The Gift, S5 E22
Next Up: More on Season 5 with Kerry Walsh (co-host of the Coaching Carrie podcast) and Roberta Lipp (co-host of the They Coined It podcast)
As an Amazon Associate I earn from qualifying purchases made through this site, but that doesn't change the purchase price to you or influence my love of Buffy the Vampire Slayer.
About Lisa M. Lilly
In addition to hosting the Buffy and the Art of Story podcast, Lisa M. Lilly is the author of the bestselling four-book Awakening supernatural thriller series as well as numerous short stories. She is currently writing the latest novel in her Q.C. Davis mysteries. Her non-fiction includes books on writing craft under L. M. Lilly. She also founded WritingAsASecondCareer.com.