Podcast: Play in new window | Download
Subscribe: Apple Podcasts | Google Podcasts | Spotify | Android | Pandora | Stitcher | RSS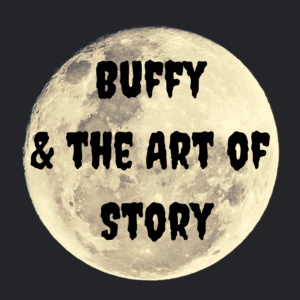 In Buffy Season 5 As A Whole (a bonus Buffy and the Art of Story podcast episode), 3 women podcasters talk about the best, the worst, and the meh in Buffy the Vampire Slayer Season 5 and beyond. Host Lisa M. Lilly and guests Kerry Walsh (co-host of Coaching Carrie podcast) and Roberta Lipp (co-host of They Coined It podcast) focus on:
(1) does Glory's disappearing act undercut her as the Big Bad? (2) The Body: best episode dealing with death or concept that doesn't quite land? (3) should anyone care when Riley leaves? (4) Buffy's state of mind and heart during The Gift; and more.
Last Episode: Glory As The Big Bad with Rachel Wharton
Next Up (on January 16, 2023): Bargaining Part 1 S6 E1
As an Amazon Associate I earn from qualifying purchases made through this site, but that doesn't change the purchase price to you or influence my love of Buffy the Vampire Slayer.
About Lisa M. Lilly
In addition to hosting the Buffy and the Art of Story podcast, Lisa M. Lilly is the author of the bestselling four-book Awakening supernatural thriller series as well as numerous short stories. She is currently writing the latest novel in her Q.C. Davis mysteries. Her non-fiction includes books on writing craft under L. M. Lilly. She also founded WritingAsASecondCareer.com.